Ref. PB301
BO Manufacture The Black Ops Soul Flat pellets Cal. 4.5 mm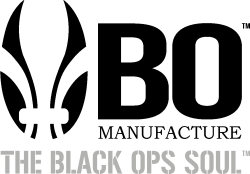 Best value for money on the market!
Flat head for target shooting, Wad Cutter profile for round impacts and well cut in cardboard targets.
The profile of flat heads is the one used by all competitors in air blasting. This is the profile that gives both the most straight and regular trajectories while ensuring a perfect cut of the UIT target in cardboard.
10m shooters at the Olympic Games use flat shots!
BO Black Ops Soul Leads 4,5 mm. - flat head
Diabolos for rifle and air pistol, pistol and CO2 revolver.
Technical Product Information
Characteristics :
Caliber: 4.5 mm. (177)
Weight: 0.49 g.
Grains: 7.56 gr.
Packaging: box of 500 diabolos.
In France products of categories A, B, C or D are subject to rules of purchase, port, transport and detention. For more details please consult the link below.
Classification of weapons according to the French Internal Security Code